District 5 - Area Team 1064 - Assembly Center - 95-422 - Polish Camp Altenstadt 1946-1946
UN Records: Box: S-0435- 0013-21
Write to:
Altenstadt community
Marienplatz 2
86972 Altenstadt, Germany
Archive: http://www.feldkirch.at
Altenstadt after the war (German site).
I have just been told about your website. It is very good and has already given me a good insight into how my father suffered before he came to England in 1948. Do you have any more info on the Altenstadt camp? All my father would say was that he was in a forced labour camp during the war. I have been wanting to find out more for years, but have not known where to start. Also fearing what I may have found as he always said he would be arrested if he went home to Poland. That's hard to understand when you are a little girl. Carol Burton, UK carols_family_history@yahoo.com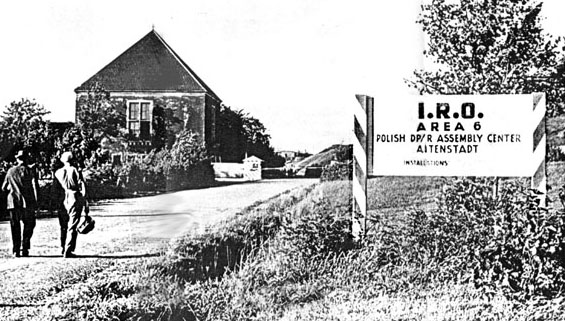 Carol sent us these photos:
The Altenstadt DP camp was the main camp for the Schongau region. Established shortly after the end of WWII in a former barrack of the Wehrmacht, it is said that about 3,000 displaced persons, especially from Poland, lived there. The camp was dissolved about 1950.
This update below, from Carol Burton tells 20a little about the hardships of the slave labour: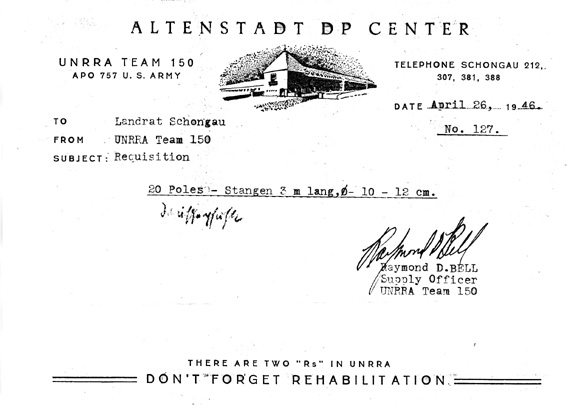 Reply:
Dear Mrs. Burton,
I have to apologize that you had to wait for such a long time for my answer to your email. But we have such a lot of cases of forced labour during World War II we have to deal with that; all the other correspondence has to wait a bit.
Now to your father. I think that he may have worked for the Vereinigte Deutsche Kieselgurwerke until the end of the war, though his registration card says November 1944. I can't find any information that he was transferred anywhere else. Kieselgur is a special kind of petrified algae that is mainly used for making filters (especially for water), because it is a very porous substance. And it was urgently needed for making dynamite.
The place where your father was working is called Neuohe. It is about 20 miles north of Celle right on the edge of the Luneburg Heath not far from a place called Unterluss, where one of the biggest ammunition and tank producers in Europe, Rheinmetall, then Rheinmetall-Borsig, had and still has its production works and firing range. In Neuohe, Kieselgur was mined in surface mining, which was hard work, because it was done solely with manpower, without the use of machines.
What sort of work your father was exactly doing there I don't know. Neither do I know what the exact working conditions in Neuohe were like. I can only give you some general information about the working conditions of forced labourers in German industry during the war. Usually the work was hard and food supplies bad. The workers lived in camps which were guarded. The camps consisted of of wooden huts, which were badly equipped and sometimes overcrowded. The workers had to work long hours six days a week. They got small wages but most of the money was taken from them again for food and accommodation. There are quite a few cases where forced labourers were beaten because they didn't work or behave in the way the supervisors/guards wanted them to. But as I said, which of the conditions really applied to your father I don't know.
If your father had worked in Neuohe until the end of the war, he will have been transferred to DP camp Hohne, which was only a short distance away from the concentration camp Bergen-Belsen. All Polish workers from this area were transferred there and I don't see any reason why your father shouldn't have been. Your father's D.P. registration record shows that he first wanted to emigrate to Canada. That may be the reason why he was transferred to Altenstadt in Bavaria, because all the D.P.'s that wanted to emigrate to North America had to be transferred to the American Occupation Zone first to be granted permission for emigration there.
Why your father finally changed his mind and emigrated to England I don't know. A possible reason may be that Canada and the U.S. had long waiting lists which would have meant many more months in the Altenstadt D.P. camp, whereas the waiting list for England was fairly short.
The fund for forced labourers in Germany during World War II was set up by the German government on international agreement in 2001. It is meant to grant the workers who suffered under Nazi rule at least some sort of compensation. Unfortunately you don't qualify for it, because your father already died in 1986. Children of former forced labourers only get a compensation if there parents who had worked in Germany had not died before January 1999, the date when the consultations for the fund began.
I hope I could give you some information about your father. I can't prove what I said about the years 1944 - 1946, but it seems to me most likely.
If you need more information, please feel free to write me. I will try to help you.
Sincerely, Rainer Voss
Landkreis Celle, Kreisarchiv, Rainer Voss, Trift 26 - 29221 Celle - Tel. 05141 / 916 353
---
10/13/04 Dear Mrs. Kaczmar:
Like other I have come across your website by accident. I only recently learned the name of the camp where my parents met and it was Altenstadt. Of course, this name is given to many German towns. My parents were Polish, my father was in the NSZ and I believe came to the camp following the end of the war. I know that he told that he was eventually placed in the American side. My mother simply arrived there with her cousin. Based on your website, I am not sure which website to search with respect to the camp. Both of my parents have died - most recently my father. My father's last name was Deszynski - Burza (Burza was his alias). My mother's name was Nalecz and her cousin was Leslawski (although I am not sure if that was not also an alias) How can I find out which camp he may have been in? Any records you have access to regarding those people???

Thanks for your hard work. Ewa Deszynski deswol@rogers.com
My brother's birth document shows Tirschenreuth and has Flossenburg. I know we were at Altenstadt, Schongau (US Zone) Germany. I have a report card with dates of 11 July 1950 to 1 May 1951. On my medical record it has Munich, Germany, Funk Caserne dated Sept 1951. We were on the move all the time. We immigrated to the US in Oct 1951 E. Hutchins Mcekhutch@aol.com
---
Hello! You have a wonderful, interesting site. I could get lost in it.
My parents--Michael Bronicki and Paulina Nocula Bronicki were in the Altenstadt, Upper Polish Camp in Schongau Germany. They married there and had two children. My Dad worked in the camp. He was head of the kitchen and a fireman of sorts? They had opportunity to leave the camp twice prior to actually arriving in NY on the USAT General Hersey.
They couldn't leave due to my mother being ill and then my father needing surgery on his hip--not necessarily in that order. Upon reading your site info, it was the first time I have heard of beatings. Yet I know my father had to sneak out once to get milk for his children when there was none--and I remember it being dangerous to leave. Anything you can tell me about the camp, who ran it, etc would be great.
Your site was quite interesting to find, and I thank you for having it. There is so much I want to know, but am left with some notes and pictures. They were both on German farms during the war. He was from Kielce--and Wola-Zyzna, District Jedrzejow and my mom from Rzeszow and Hadle Kanczuckie District Jaroslau. Thank you for anything you can provide! Sandra Krzyzanowski (yup I also married a Pole!) AMEDSADE@aol.com
---
Olga,
I was born in a DP camp in Altenstadt, Germany. I was born in 1948, but my birth certificate was issued in 1951 when we immigrated to the United States. Is there a list of all births in the camp, and all occupants of the camp in Altenstadt? Any information you can give me would be greatly appreciated. Mari Sutton suttonall@comcast.net
Follow up: 11/9/2012 Dear Laurence:
I came across your message on the DP Camps website and wanted to let you know that I was born in the Altenstadt DP Camp in 1948. My father disappeared shortly after my birth in war-torn Germany and it took me 43 years to find him. I wrote a book about it, The Night Sky: A Journey from Dachau to Denver and Back.
There is quite a bit of unknown information about WWII, forced labor, and the DP Camps in the book. I receive emails from people throughout the world who were born in the DP camps and one of the common themes is that their parents refused to talk about those times. Fortunately, in her later years, my mother did reveal the secrets of the DP camps, and they are in the book. Many reviewers and critics have stated my memoir is an important and compelling story. One of the reasons I wrote the book is that I came to the realization that I had no family history to give to my children and great grandchildren. During the search for my father, I found that history and can now leave the family stories for my children and my children's children. My book is in libraries, local bookstores, Barnes & Noble, and can also be found on www.Amazon.com by searching for "Maria Sutton The Night Sky." Best wishes to you. Maria / Maria's book can be located on: http://tinyurl.com/agr6sk2

REWARD:
I am in urgent need of a photograph of my father. I will pay $25 for each photo I accept and $500 for a photo of my father, if accepted. His name is Jozef Kurek, a Polish officer. He was and Altenstadt, Germany, 1947-1948. He was very tall and had blond hair and blue eyes. He was in his early 30's at the time he was in the DPcamps. The photos would have been taken in the Altenstadt and Pfaffenhoffen DP camps. Please contact me at suttonall@comcast.net. Sincerely, Mari Sutton
There are five Altenstadt's listed on maps of Germany, but the only one that had the DP camp is the one that is two kilometers from Schongau. The address is: Marienplatz 2, 86972, Altenstadt, Germany. It should be noted that every town and city in Germany has an "Altenstadt" section, including Munich (München). Altenstadt means "old town" and every town has a historic section named Altenstadt. Any requests for information from the DP camps should be sent to the Marienplatz address.
The DP camp site is now a military installation and we were not allowed beyond the guard rail. The German officer allowed me to take pictures once I explained to him that I was born on the site. Below are pictures of Altenstadt and the site of the former DP camp.
Mari Sutton suttonall@comcast.net
---
3/16/06 Hello Olga
I am hoping you can help me. I am trying to find the camps where my husband's family were during 1939-49. They came from Kielce Poland and were Polish. My father-in-laws name was: Jozef Beresztan, his wife - Antonina Beresztan.
Children: Janina, Marian Jozef, Marianna Helena, Sofia (born in Ochsenhof) and Aleksandra (Born in Altenstadt). The last two children have papers to say they were born in these two places. They worked on a farm (forced labour) from 1939 to probably when the war ended and then they must have been placed into Displaced Persons Camps. But they have long deceased and we don't have any information about those 10 years. I have been searching the net but I can't find and sites where I can find this info and then I came upon yours, I do hope you can help me.
Thanks Nora email: aspired_1@kooee.com.au
---
4/3/07 Dear Olga:
I came across your website while trying to find some information about my family. My father was in Upper Polish Camp Kosciuszko during World War II and I was born in Altenstadt in 1948. We emigrated to Canada in 1949.
I'd like to find out more about my mother and father's families who originally came from Poland. I have no knowledge of any of my relatives who remained in Europe after the war. It was very helpful for me to see your website and wanted to thank you.
Helen Morrison (Zytka), email: helenzmorrison@yahoo.com
Jun 18, 2019
Bonjour. je viens de voir votre site ma maman Irèna chmielewska est né la 10/12/1947 dans la Camp d'altensdat .
elle est fille de Chmielewski zygmunt né a Przebrot le 09/04/1905 et de Wazkulinkowa Halina née le 04/05/1914 en Ukraine.
un Frère est né aussi le 15/08/1943 Zygmunt Chmielewski a Pforzheim si vous aviez des infos sur les membres de ma famille je serais preneur surtout sur tous ce qui concerne leur déportation en allemagne.
merci par avance, J.krawczyk
jerome.krawczyk@gmail.com
Computer translation: I just saw your site. Irena Chmielewska, my mom, was born 12/10/1947 in Camp Altenstadt.
She is the daughter of Chmielewski Zygmunt nee Przebrot born 04.09.1905 (Wazkulinkowa Halina born on 05/04/1914 in Ukraine). A brother was born also 08/15/1943 Zygmunt Chmielewski in Pforzheim.
If you have information on my family I would take, especially on all regarding their deportation to Germany.
Thanks in advance, J.krawczyk jerome.krawczyk@gmail.com