Gabersee, Jews
Hello Olga
My father and mother were both in Camp Gabersee after the war. I have plenty of pictures of life in Gabersee DP Camp. I was wondering if i could contact a website or find their name on any documentation of Camp Gabersee. Their names were: Munci Markowitz Herschel Rosenvasser. Thank you, Gary Rosen
Gandersheim (British zone)
Ganghoffer - in Regensburg, Bavaria, Germany.
Submitted by: Wolfgang Strobel, author of Post der befreiten Zwangsarbeiter - Displaced Persons Mail Paid in Deutschland 1945 - 1949:
City archives: Stadtarchiv Regensburg
Keplerstrasse 1
93047 Regensburg
Tel.: 49-941- 507-1452
Fax: 49-941- 507-4458
Gebhardshagen (British zone)
Geesthacht, #1225, (Goesthacht in '49) Schleswig Holstein (British zone), mostly Balts
Archive Geesthacht:
http://www.archive.schleswig-holstein.de/kreis_hzgt/sageesth.html
Stadtarchiv Geesthacht,
Krügersches Haus, Bergedorfer Strasse 28,
21502 Geesthacht,
Tel: 04152/835979 or 0172/2918723,
Fax: 04152/78967
5/2/12
Sorting family papers I came across these documents of my late father.
You are welcome to post them on your site. I have various photographs of the era, some definately of Naples and some of an unidentified camp. If these are of interest let me know and I will send them to you.
Robert Cosic robert@cosic.org.uk
Geismar, Eichsfeld, Thuringen
Goettingen British zone: civilian workers camp, Gebr. Ruhstrat,Tonkuhle,
Geismar Strasse 62, 50 men and 170 women
Jan 22, 2021 Hi Olga;
I live in Canada and am trying to piece together our family tree. Was hoping you can assist in directing me to various resources available. Parents are Mykola Smalec (Born 1921 in Nowe Celo Lviv Oblast Ukraine) and Helen Charzcuk (Born 1925 in Cholm Ukraine). Both were required to leave and work in Germany. My father Mykola arrived in Germany Dec. 1941. Mother Helen most likely arrived around the same time. They were sent to DP camp in Geismar e22 Germany. I have their marriage certificate indicating marriage was conducted in Gottingen Germany and shows their home was at Geismar Landstrasse e22 D.P. Camp. Also, have some wedding pictures. After the war, around 194-50, they went to Waltham Abbey England and worked in the greenhouses/farms in the Newgate Street Village. If you could assist or steer me in the direction to attaining more details, that would be appreciated. Thanks in advance!
Roman Smalec. smalecron@gmail.com Below are photos provided by Smalec family Canada.

Geislingen, Estonians
Subject: Photos at United Nations archives:
We have photo #UN22339: DP girls residents of Geislingen IRO DP Camp near Stuttgart, Germany
Please let me know if you would be interested in obtaining hi-res scans ($3 each) or prints ($ 7 each). Best regards,
Clara Gouy, Photo Librarian, United Nations, photolibr@un.org,
Gelsenkirchen - 5 camps (British zone)
Gladbeck - 4 camps (British zone)
Stadtarchiv Gladbeck
Willy-Brandt-Platz 2
45956 Gladbeck
Tel: (49)-2043-99-2700
Fax: (49)-2043-99-1417
Web: http://www.archive.nrw.de
Submitted by: Wolfgang Strobel, author of
Post der befreiten Zwangsarbeiter - Displaced Persons Mail Paid in Deutschland 1945 - 1949.
Glasenbach
Good morning:
I am looking for anyone who may have come in contact with Canadians who worked for UNRRA. Ethel Ostry was the principla welfare worker in Camp Glasenbach and the Director of Camp at Schloss Langenzelle. Her final assignment was in Camp Fohrenwald; Mrs J Henshaw was with Ethel at Camp Fohrenwald and later Director of the International Children's centre on Chiemsee.
Giske Miss Francis.
Thank you for any assistance you could provide. Susan Armstrong-Reid
Glynn Hughes Hospital, #2512, Land Niedersachsen (British zone) Jews,
Goslar, #2913, Land Niedersachsen (British zone)
Zehntstrasse 24,
38640 Goslar
Tel: 0 53 21 - 70 46 11
Fax: 0 53 21 - 70 46 22
http://home.t-online.de
Following excerpt from: 9thrtr.com
"Our last job, under 5 Div., was to protect the German population in the isolated villages of the Harz Mountain area from the murdering, pillaging, raping D.P's who were hiding in the dense forests atop the Harz, or were in D.P. camps further north right up to Brunswick. By day the area was quiet; by night the Germans lived in terror and great was their rejoicing if the 9th placed a guard in their house or village.... Cyril Handley (C) moved to the village of Ringleheim between Hannover and Goslar. They patrolled in half-track vehicles and often slept in a farmhouse while acting as guard. He says, "The D.P's could not understand why we protected Germans, and it got that they hated us." Submitted by: Alan Newark Scotland
On 6/16/12 Hello Olga,
I came across your web page tonight whilst I was looking for the displaced persons camp in Germany where my mother in law was in 1945. She said it was Ludeman or something like that. My husband was born near there at the hospital in Goslar in 1945 so I guess the camp must have been close to Goslar. We recently visited Goslar but the Displaced Persons Camp in Goslar is no longer there and I wonder if there is any information about the Ludeman DP Camp. I do not know if the spelling is correct. With much thanks and in anticipation Kindest regards Krystine Krzywokulski tedkrys@bigpond.com
Reply: After the Second World War in 1945 belonged to the British occupation zone of Goslar. The British military administration established a so-called DP camps to house displaced persons (DP), The camp was supervised by a team (Team 2913) UNRRA. Submitted by Anthony Schlega schlega.a@web.de
11/3/11 Dear Olga,
Wow! what a masterpiece you've created. Do you have anything related to the Estonian dpcamp nr. 15 in Goslar? If I'm not mistaken it was situated in Haus Hessenkopf. My Estonian mother, Elsa Mänd, stayed there in 1945
With best regards, Stella van Zanten fazantenhof@zeelandnet.nl
The Netherlands
On 7/8/12 Hi Olga
I hope you can help me I am trying to trace my mother's family history and I stumbled across your website. My mother's family migrated to Australia in 1949 from a German camp. The family name was Demczyszyn and her two brothers were born in Germany in different locations. Her eldest brother Bodhan was born in Helmstadt and her younger brother Roman in Goslav. My mother has distant memories of this time as she was only a young child of 7 when she came to Australia and I think she was in the camps from the age of 3. I don't know why they moved but I was hoping you could direct me in the right direction to find out which camp they were in. Hopefully I could add a post on the website and hopefully someone will see it and I can start to fill in some of the missing pieces.
Thanks Maria Picker maria_picker@bigpond.com
Gothmund is a fishing village; Gothmundlager is in Luebeck, Poles
Göttingen / Goettingen, #285, Land Niedersachsen (British zone) (Do not confuse with Güttingen in Switzerland.)
City archive/ Stadtarchiv
stadtarchiv.goettingen.de
City website: http://www.eng.goettingen.de/
Municipal offices:
Neues Rathaus
Hiroshimaplatz 1-4
37083 Göttingen
Mayor's Tel: (0551) 400-4444
German website:
Research project about slave labor, including photos in Goettingen:
http://www.zwangsarbeit-in-goettingen.de/
http://www.goest.de
http://www.egmed.uni-goettingen.de
During the Allied bomb attacks, Göttingen received comparatively little damage. From July 1944, Göttingen experienced some heavier air attacks, but these were mainly around the main rail station. The historic old town was largely untouched. Overall, only about 120 deaths were caused by the air attacks, a comparatively small number. The neighbouring cities of Kassel, Hanover and Braunschweig, however, felt the full force of the allied bombing experience. Göttingen at this point was crowded with bombed out refugees from other areas. Also, because the city had many well-equipped hospitals, Göttingen during the war had up to four thousand wounded German soldiers being cared for. Göttingen was also fortunate in that before the American army arrived on April 8th, 1945, all German combat units had left the area, and so the city experienced no major fighting.
There was a concentration camp for adolescents in Moringen which was liberated in 1945. In 1946 the authorities of the British Occupation Zone, to which Göttingen then belonged, introduced a communal constitution which reflected the British model. After the war the city and district of Göttingen joined the administrative district (Regierungsbezirk) of Hildesheim. In a reform in 1973 the district of Göttingen was enlarged by incorporating the dissolved districts of Duderstadt and Hannoversch Münden.
---
Dear Olga
Thank you for creating such a wonderful website. Through it I have managed to contact people that lived in the same camp (Lyssenko Camp in Hanover) as my father Ivan Jarema (born 1921 in Nowe Selo, Lwiwska Oblast, Ukraine). My father died when I was thirteen and I knew little about his time in Germany. I have filled some of the gaps using your website for which I am very grateful.
I know that my Dad was taken in 1941 for forced labour. He returned to Ukraine for a week or two in 1943 before going back to Germany. I don't know what work he did or where from 1941 to 1945. I think he may have lived with a woman called Zuba Krajenko during this time. The photos taken in Göttingen suggest he may have worked on the trains there - repairing and maintaining them. I know that in 1945 he went to Lyssenko Camp and have met with a Ukrainian who was there with him. They came over to England with many other Ukrainians in 1947 and were based together in a camp in Newgate Street Village, Hertfordshire.
My Uncle Wasyl Jarema (born c1919) disappeared during the war and may have worked in Göttingen in 1941 on the national railroad. I would like to trace him and his family if possible.
I hope this is clear. Thank you for your brilliant website. Please let me know if you can help me. I have attached some photos. Many thanks, Sonia Jarema jaremas@yahoo.com
Grensstrasse (British zone)
Greven website in German;
#3155, #31/155, .....(Canadian troops acted as invasion army with the British Army entering Greven on March 30, 1945; became British Zone), Poles, Balts, Latvian
City archives: http://www.archive.nrw.de/home.asp?stadta-greven
Stadtarchiv Greven
Rathausstr. 6
D-48268 Greven
Post office box: Stadtarchiv Greven
Postfach 1664
D-48255 Greven
Tel: 02571/920-358 (-458)
Fax: 02571/920-320
E-mail: archiv@stadt-greven.de
MAJOR REUNION HERE ON WW.DPCAMPS.ORG:
6/29/04 Dear Olga,
We have been searching the internet for my father and came across your valuable site. My name is Natasha Elms. I was born in Greven in or near a DP camp. All I know of my father is what my aunt told me. Her name is Janek Denisewicz or Denisiewicz. I have 3 photographs of him, from what I was told he was born in or near Krakow.
After the war he worked at "Lager Munster" Westphalia for the M/office IRO either for the British or Americans. Later he migrated to America or Canada. My godfather, W. Borek, knew my father and the last known address that have of him is 106 Wilkesbarre 18 New York. I would love to know if you could help me locate or tell me anything about him. I have wondered all my life. Thank You so much. Natasha Rowland Crone
remcrone@paradize.net.nz
---
8/30/05 Dear Natasha,
My name is Kristina Denisiewicz Cavalieri. My brother emailed this website to me and the pictures I am looking at are pictures of my father. I was born in a displaced persons camp in Germany and we later migrated to the United States through New York and then migrating to Connecticut. I am the oldest child of five children. I am truly stunned by this and hope my brother and I can answer any question you may have. I am so sorry to tell you that our father passed away from lung cancer. My hopes are that this email reaches you and I can give you some peace and answer any question you may have. Sincerely, Kristina Denisiewicz Cavalieri
Kristina.Cavalieri@trincoll.edu
My brother, Mirek, is the one that found the website and is actively pursuing this. Mirek's email is MiamiDenis@bellsouth.net
---
3/9/06 Dear Olga
I just wanted to let you know about the publication of my Ph.D. thesis (in German language only). For more information just use the following urls:
http://www.lwl.org
City of Greven, Fachdienst Allgemeiner Service, Stadtarchiv (City Archive)
http://www.greven.net
Dr. Stefan Schröder
Email:
stefan.schroeder@stadt-greven.de
Rathausstr. 6
D-48268 Greven
Germany
Grohn
See Bremen Do you know of any info on this camp or it's records?
LSTam
This was my last camp in Germany from here we boarded the ship Gen. M.B. Stewart and came to New York in 10 days in Nov 1951
John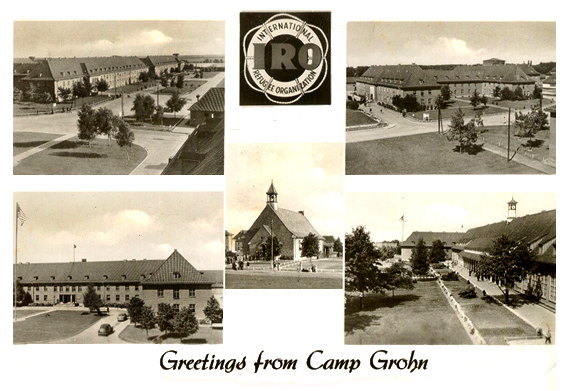 ---
March 23, 2012
My parents and I (name Iwaninok) were in Camp Grohn from Nov. 28 to Dec. 1, 1951.....departure on Dec. 2 for NY Ellis Island on the S.D. Gen. Sturgis. Baggage allowance on board ship was 300 lbs per person, even children, plus 30 lbs/person hand luggage.
Our immigration processing took place in the Funkkaserne by Munich (more on that later) from Aug. 29 - Sept. 20, 1951
Following is some information from my mother's diaries of this camp:
Accommodations: women and men separate. We were on a 3rd floor attic space: 17 bunk beds with wooden partitions and a curtain in front. Straw mattresses and pillows, 3 blankets, no sheets. Everyone was required to work 4 times at 4 hours each during this time. Work schedules were posted in all the houses. If you didn't report, you lost your meal ticket. Mother's first work was peeling potatoes in the kitchen with 30 women. Feeding for about 4,000. Father was assigned to chopping wood.
Work was also required once you were on board ship. If you registered early, the benefit was you could pick your job. Dad became "2nd secretary in charge" and Mom had the job of journalist for the ship's daily newsletter (she spoke English).
If anyone wants to contact me, please send e-mail to Silvia Shanahan iwaninok@hotmail.com

---
Gronau, #3157, Mennonites, Poles
Gross Hesepe near Meppen,
4/13/05 Hi Olga,
I am trying to locate a DP Labor camp my family and I spent time in up until 1945. I believe we were liberated by the British and the camps name was Grosshesepe. Can you help? Thanks in advance. Terry

Reply: The official name was in two words. There was a DP camp from 1945 until at least August 1948. Gross Hesepe today forms part of the community Geeste, zip code 49744. Submitted by: Wolfgang Strobel,
County archives: Kreisarchiv Landkreis Emsland
Herzog-Arenberg-Strasse 9
49716 Meppen
Phone: (49)-5931-44-460
Fax: (49)-5931-44-463
Email: landkreis@emsland.de
Web: http://www.emsland.de
Grossenbröde, #1226 (Goesthacht in '49) (British zone)
Grunbuhl Please read the book Bring Forth the Children by Yul Brynner. Yul Brynner was in Ludwigsburg / Grunbuhl DP camp
Gut Senden (British zone)
Gütersloh / Guetersloh - 2 camps (British zone)
Güttingen (Güttingen/Guettingen) is in Switzerland http://www.guettingen.ch
info@guettingen.ch See Göthingen for German town.