Back to slave camps Intro
Alphabetical List of camps firmen_lager.xls
---
Magdeburg
1933 - Mayor Ernst Reuter is forced to resign and placed under protective custody.
1938 - The construction of the ship lift in Rothensee is completed.
The synagogue in Grosse Schulstrasse and many shops of Jewish citizens fall victim to cruel fascist pogroms. 113 people are arrested and taken away to the concentration camp Buchenwald.
1945 - Thousands of citizens lose their lives during the most devastating air attacks on Magdeburg on 16th January.
A deadly bomb attack wipes out the old city centre and reduces 90 percent of the buildings to rubble. 60 percent of the city is destroyed. The factories of the Krupp-Gruson-Werk, the Junkerswerk and the Brabag are affected to a great extent. In the outer city districts collection points are set up where the survivors and the homeless can find shelter and care. Special trains are put into operation to evacuate the unemployed and also children to the countryside. With a total amount of debris being six million cubic metres (20 cubic metres per inhabitant), Magdeburg ranks third in the list of most severely damaged cities in Germany right after Dresden and Cologne.
On the eve of the war, Magdeburg had a population of 330,000 whereas in
April 1945 only 90,000 survivors could be accounted for.
3000 prisoners of the ancillary concentration camp of the Polte ordnance factory are temporarily imprisoned at the stadium "Neue Welt" when Magdeburg becomes the target of an artillery attack. Two grenades explode in the overcrowded stadium. The panic-stricken prisoners attempt to flee and they are stopped in their tracks when SS men start firing their machine guns.
On 18th April American troops start to occupy the western part of Magdeburg (until 1st July 1945). Soviet troops take over the eastern parts of the city on 1st May. The American occupation forces appoint Social Democrat Otto Baer as Mayor.
The administrative committee of the province of Saxony constitutes as a self-governing body.
On 1st October, 35 schools and about 25,000 students restart their lessons in Magdeburg. In the Monastery of Our Lady the first course for newly appointed teachers is held.
9/12/11 Submitted by Alan Newark braveheart562002@yahoo.com, from: www.magdeburg.de: Polte ordnace factory; Krupp-Gurson Werk; Junkerswerk; Brabag; Neue Welt Stadium
---
Mainz
8/14/11
A Zwangsarbeiter, slave labour camp, at Gustavsburg near Mainz, Hessen, Germany. The camp provided workers for the neighbouring heavy machinery company.

UK News
For all forced labor camps in the vicinity of Mainz: a total exceeding 3400 foreign forced laborers. The French, of which almost a third were prisoners of war, were by far the most numerous, followed closely by the Soviets. Forced labor was also performed by Belgians, Dutch, Italians and Poles.
Large companies set up their own camps on site. There were also a number of smaller facilities. The largest of the camps on Ingelheimer Aue was the concrete plate factory. 302 foreign workers, of which 218 were "Ostarbeiter (workers from the East), 121 of those women, worked and lived here.
This is the one from the photo. It is listed on google as Mainz-Ginsheim-Gustavsburg. Not pleasant, but certainly not a concentration or extermination camp. They even had a maternity ward which registered over 30 births, which means almost 20% of the females ended up pregnant there. My family knew a number of forced workers who stayed, and the attitude was that even forced labor in Germany was preferable to the poverty of the homeland (not the communist factor at all).
Translated by Vova antiquariu@aol.com

---
Majdanek (Death camp in Poland)
"The first prisoners at Majdanek were Russian Prisoners of War, who were transferred from a barbed wire enclosure at Chelm. According to a book, Majdanek, by Jozef Marszalek, the prisoners at Majdanek were from 28 countries: Albania, Austria, Belgium, Bulgaria, China, Czechoslovakia, Denmark, Estonia, Finland, France, Germany, Great Britain, Greece, Holland, Hungary, Italy, Latvia, Lithuania, Norway, Poland, Romania, Spain, Sweden, Turkey, the USSR, the United States of America, and Yugoslavia. He wrote that Polish citizens were 59.8% of the total, followed by citizens of the USSR at 19.8%, Czechoslovakia at 13.3%, the German Reich at 4% and France at 1.7%. All the other countries put together accounted for 1% of the total. There was a total of 54 ethnic groups represented, including 25 different ethnic groups from the Soviet Union and 4 ethnic groups from Yugoslavia. According to this book, the actual names of only 47,890 prisoners are known, including 7,441 women."
---
Mauthausen link is Italian webpage - Konzentrationlager (concentration camp)
The main concentration camp Mauthausen was situated on the border of the two villages Mauthausen and Marbach, in the vicitnity of the quarry Wiener Graben.
Prisoners arriving with Kugel (bullet) marked on their transfer papers were executed soon after arrival, without entering their names in prison records, thus an estimated 25,000 persons do not appear on the death records and their numbers were re-assigned to new prisoners. Prisoners worked in the armament industry. Mauthausen provided manpower to Wien, Niederdonau, Oberdonau, Steiermark, Kaernten of the Ostmark and Passau from Bavaria.
Mauthausen, a camp for men, opened in August 1938 near Linz. Mauthausen was established to exploit nearby stone quarries; it was classified by the SS as a camp of utmost severity. The prisoners included Italian, French, Yugoslavian, and Spanish political prisoners; Jews from Czechoslovakia and the Netherlands (1941); Gypsies from Austria (1938-40); nearly 30,000 Polish prisoners; and thousands of Soviet prisoners of war. The total number of prisoners who passed through Mauthausen is about 200,000, of whom 119,000 perished. Mauthausen was liberated by the U.S. Army on May 5, 1945.
Mauthausen Death Books, 1939-1945. Microfilm Publication T990. 2; Microfilm Research Room,
National Archives / College Park
8601 Adelphi Rd.
College Park, MD 20740-6001.
Tel: (301) 713-6785; FAX: 301-713-6169
File name: Mauthausen Concentration Camp Oct 51 - Dec 51 Vol.
---
12/15/04 Dear Olga,
Can you help me? I'm trying to locate information about my father,Tadeusz Lech-Bielinski, an artist who survived Stutthoff, Gusen and Matthausen by painting and sketching for the German guards. He came to Belgium as a displaced person. Between 1949 and 1952 he immigrated to Australia on assisted passage. I have looked through passenger lists available on the net without success. Lucy Elliott

---
Mecklenburg-Vorpommern See Boizenburg
---
Meppen - see alos Veerssen, British zone
Camp 5 CC Kdo. Neuengamme - working for Hoch-Tief in Meppen
Strafgefl- Arbeitskolonne (prison) (work colony)
Jul 10, 2014 Dear Olga,
I am trying to trace the DP camp which my father - Jerzy Aleksander Maresch (dob 23/7/1923) was sent to after the his liberation form Mautahusen concentration camp. He was re-united with my grandfather who was stationed at Meppen DP.
My father passed away in 1985 and did not speak about his experiences. I have been to Mauthausen a number of times but I am interested in his time spent in DP camps before his arrival in the UK. Any information would be very much appreciated,
Kind regards, Ela Kaczmarska e_markacz@hotmail.com
---
Minden in Nordrhein-Westfalen; British zone.
See Kdo Neuengamme -
Gerichtsgefaengnis - Prison at Kampstrasse 31
Civilian work camps: 9 +7
Duetzen - Prison; civilian work camp 800 persons
Rehme - prison; civilian work camp Weserheutte AG 1100 persons
Bad Oeynhausen - civilian work camp 250 persons
Porta-Westfalica - 1,100 prisoners of various nationality. Partly transfered to Kdo. Fallersleben, evacuated to Kdo. Woebellin and Kdo. Schandelah.
Barkhausen - 1,100 prisoners of various nationality.
Hausberge - 150 Jewish women guarded by SS; Polizeigefaengnis (police prison)
Eisbergen - 200 persons in civilian work camp
Lerbeck - 100 person at Gastwirtschaft Fricke; 69 persons at Konfirmandensaal
Neesen - 500 prisoners working in Zementfabrik (cement factory)
Lahde, Petershagen, Joessen, Hartum
---
Mittelbau concentration camp -
Mittelbau - D7 & E7 Weimer; KDO Buchenwald
Mittelbau - I, Dora, Salza - Concentration camp; 15,000 persons;
Dora: labour camp Sept 1943 - April 1945; est. prisoners 60,000; est. deaths 20,000; See: http://crdp.ac-reims.fr
Mittelbau - II, Erich; Ellrich; 7,000 persons; Kdo. Buchenwald, ; workers sent to work in 29 towns;
Sub. Kdo.Alfred I 60 prisoners.
Mittelbau - II, Kdo. Erich, Ellrich; average 8000 prisoners
Mittelbau - II, Nordhausen
Mittelbau - II, Salza/Thuer; Kdo. Dora (very large)
Mittelbau - III, Kdo. Hans, Kdo. Mittelbau, Harzungen; 4,000 persons
---
Moers
in Nordrhein-Westfalen
---
Mönchengladbach
in Nordrhein-Westfalen
---
Moringen
Located between Göttingen and Hanover, Moringen was the first central concentration camp for women from October 1933 to March 1938. It became a concentration camp for juveniles from August 1940 to April 6, 1945, holding nearly 1,600 male juvenile prisoners aged 12-22 and sometimes younger. These children were arrested for: refusal to serve in the Hitler Youth; sabotage or refusal to work; criminality; membership in the Swing youth movement; homosexuality or prostitution; and political resistance (especially young partisans from the Slovenian-Austrian border region).
https://jimsnowden.com
https://en.wikipedia.org
In 1945 Moringen site was reused as a displaced persons camp for the Polish people, and in 1948 again became a provincial workhouse.[2] Today there is a holocaust memorial house (KZ-Gedenkstätte) in Moringen. Established in 1993, it shows a permanent exhibition.
https://www.citypopulation.de

City archive
https://www.stadtbuecher.de
Kontakt
Amtsfreiheit 10
37186 Moringen
Telefon: +49 5554 202-0
---
Moosburg - https://www.moosburg.org
The largest German World War II prisoner of war camp was Stalag VII-A at Moosburg, Germany. Over 130,000 Allied soldiers were imprisoned there. It was liberated by the U.S. 14th Armored Division following a short battle with SS soldiers of the 17th SS Panzer Grenadier Division on 29 April 1945. Stalag III-C is notable for the escape of US paratrooper Joseph Beyrle, who subsequently joined a Soviet tank battalion commanded by Aleksandra Samusenko, which returned to liberate the camp. https://en.wikipedia.orge
Prisoner of War and internment camps, Bibliography of German and Allied POW and internment camps on Moosburg site, in German http://www.moosburg.orge
---
Mühldorf
http://www.ushmm.org
---
Mühlberg / Elbe
Prisoner-of-War Camp
from 1939-45 in Mühlberg/Elbe, Stalag IVB
http://212.68.78.12/gfue/
---
München
---
Münster
in Nordrhein-Westfalen
---
Naschhausen - https:www.walpersberg.de
---
Neuengamme - labour camp; Dec. 13, 1938 - May 4, 1945; est. prisoners 106,000; est. deaths 55,000; See: http://www.hamburg.de
---
Niederhagen - prison and labour camp; Set. 1941 - early 1943; est. prisoners 3,900; See: http://www.wewelsburg.de
---
Neckarsulm
---
Nettelstedt in
Nordrhein-Westfalen
---
Neuengamme
A KZ lager / concentration camp near Hamburg, Germany, opened in December 1938, initially as a satellite of Sachsenhausen concentration camp. Neuengamme became an independent camp in June 1940. British troops liberated Neuengamme on May 4, 1945.
CC Kdo of Neuengamme - total 95,500 prisons; 13,500 of them were female.
Worked in enginnering, steel, chemistry, ammunitiosn, aircraft, fuel, shipping industries.
2/20/06 Hey Olga,
I am forwarding to you a photo of the SS camp at Neuengamme which shows the factories in the background where the slave labours had to work. Kind regards, Holger See: Danish website by Holger B. Dybdahl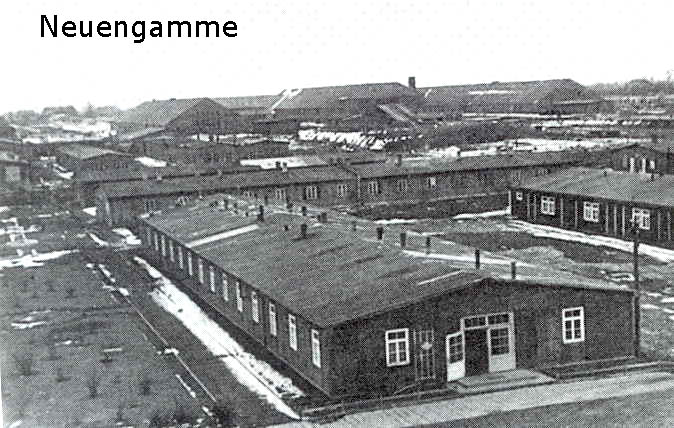 Neuengamme memorial website in English
Lost Places website; click search (Suche) and type in name http://www.lostplaces.de/
Date: 5 Mar 2011
Subject: British screening centre, the internment camp Neuengamme
I translated this a while back it is worth noting. ANTOH schlega.a@kabelmail.de
Heinz Harenberg, und Rudolf Heinz Beher –
"German Army Cossacks - II Battalion Bergmann" - A translation from: 'Freiwilige vom Kaukasus'
One day in a British screening centre, the camp administration announced the dismissal of everyone owning an heavy goods driving licence, and were from the Hamburg area. They were needed to clear away debris, etc. Accordingly, our comrade reported himself for the task and was summoned to the camp management.
Jews wearing the British uniform sat waiting for him in the office. He was asked for his Service and Identification book (Soldbuch). An officer spoke good German, and leafed through a thick book.

Suddenly this Officer pulled a whistle out of his pocket and blew in it loudly. Two soldiers with machineguns (Sten's) at the ready stormed into the room.

Then everything happened very quickly. Hands up!

He was taken to be jailed in the nearby village fire station.
There he was met by another two British Army Officers, and a physician.
Our comrade, a corporal, wearing the tropical uniform, already a prisoner seem to make them curious. When the door closed and they were alone, one of the Officers took our friend aside and wanted to know why and how he, a corporal was arrested.
After explaining 'Bergmann' etc. This Officer gave our man a tip; to immediately destroy his service book and say at the next interrogation that he was found without identification papers in the camp, and this was the reason for his imprisonment.
After three hours passed, a German Paymaster, two SS Officers, and a Captain, were locked up with him.
That afternoon, the door of the fire station opened, and four British Soldiers with Sten guns were standing outside. They commanded: "Hands up, and come outside!"
The men were told to sit in the back of a Land Rover, and were driven away.
Where? They couldn't tell? A tarpaulin cover blocked their sight, and three British Soldiers pointing their Sten's, accompanied them. In the midst of an open road the vehicle stopped.

Then they were commanded to surrender all their valuables and money they had on them.

One of the SS Officer's resisted the order with a determined No!
He was told to dismount. And all feared for the worst.
This Officer was relived of all his valuables with force.
The journey continued, and through a gap in the tarpaulin they could see they were in city of Hamburg, but damn it, the vehicle didn't stop. It drove on. They wondered where they were going? Where they being taken to the Russians? What a frightening thought. Conversation was strictly forbidden, and a depressing atmosphere arose.
An hour's drive later they stopped.
Shrill commands of unintelligible speech, and a spotlight glared on the vehicle as they dismounted. All around them they saw barbed wire.
Rifle butts rammed their backs, driving them on like cattle, then singled out for interrogation. Nothing could be seen. Only a bright spotlight, and the questions came in broken German.
Where? Which unit? In which countries did you serve? Suddenly a sharp pain was felt in our comrades back, and again the same questions were repeated.
His answer was always the same, "I was found in the prison camp with no identification papers. My last unit was Kraftfahrabteilung 10 Hamburg." (Transport Company 10, Hamburg.) Then more blows. Then a roar, "You SS pig! You'll hang!"
Afterwards, solitary confinement. A dark room with a concrete floor, and wearing only light tropical uniform.
Every hour or so, he was dragged back out in the spotlight. The same questions, with the same answers. Again and again, solitary confinement, and darkness.
Approximately 3-4 days the same torture continued, and nothing to eat.
Although the torturers did not believe our comrade, finally they gave up and went away.
He was taken into the POW community. Thousands of soldiers and civilians in huge wooden huts with concrete floors.
Now they could talk, but only softly so no supervisor could hear them. He found out that he was now in the former Neuengamme concentration camp, close to Hamburg.
Every day there was food. A few pieces of turnip swimming in hot water, served in mess tins; with a fist-sized piece of bread, half of it mouldy. At morning roll call, which always lasted about three hours until they were all accounted for, they were told that mold was healthy for them.
Those who collapsed from weakness, or showed signs of a cold, were placed between two narrow electrified barbed wire fences. Those who fell, died.
In the evenings they were locked up in the barracks by 6 pm.
Large bins were placed around the rooms where they had to do their necessities. It didn't take long for them to fill and spill over. Then they had to lie in the faeces, all through the night. A savage stench of sewer soon filled the rooms.
Again and again, they were taken for interrogation. And, again and again, they were returned to the stinking mass piles.
During the day they were allowed only to walk in the yard surrounded by barb wire, though only in silence.
Those who cracked up, ran against the wire and were immediately fried. Prisoners were constantly shoving barrows, wheeling away the corpses.
Our comrades neighbour, a young raw recruit from Munich had only seen four weeks of service, 190 cm tall, caught tuberculosis in his lung and died.
Cripples with one arm, or one leg, the elderly, soldiers of every genre, they was all there, packed together.
Our comrade was subdued to this drama for about four and a half months, then it was all over.
He was dismissed without a penny. But before leaving, he had to sign an agreement that he would not testify about his experience in the screening centre, Camp "Neuengamme."
Finally he found his freedom. But there is always the fear of re-incarceration, and with this comes a great silence.
Other links for Neuengame:
http://www.ww2f.com
http://www.kz-gedenkstaette-neuengamme.de
---
Neubrandenburg
Neubrandenburg City Archive- Stadtarchiv Neubrandenburg
Friedrich-Engels-Ring 53
D-17033 Neubrandenburg By mail: Stadtverwaltung
Postfach 1814
D-17008 Neubrandenburg Tel: +49 (395) 555 2886
Fax: +49 (395) 555 2930
---
Neuenburg
Movie: Reburial of slave laborers killed by German SS (Schutzstaffel) troops in Neuenburg, Germany towards the end of World War II. A procession of men and women carrying dead bodies of slave laborers in open coffins marches on a street. The dead bodies are removed from the coffins by civilians at the burial site under supervision of US soldiers. http://www.criticalpast.com
Submitted by Alan Newark braveheart56200@yahoo.com
---
Neustadt-Glewe
A subcamp of Ravensbrück concentration camp that existed from September 1944 to May 1945, where prisoners were forced to work at the local airfield, in a Dornier airplane parts factory and preparing anti-tank ditches. The prisoners included Jewish, Gr eek, German, Hungarian, Polish female political prisoners, Russian, and Ukrainian political prisoners.
---
Niederkrossen "zur grünen aue"- https:www.walpersberg.de
---
Niedersachsen see Allgemein, KZ Bad Gandersheim, Bad Grund, Bad Harzburg, Bergen-Belsen KZ, Braunschweig, Celle, Delmenhorst, Dornum, KZ Dr_te, KZ Emslager, Hameln, Hannover, Hildesheim, Moringen KZ, Nordhorn, Osterode, Stade, Volpriehausen, Wolfsburg
---
Nordheim
Hi Olga, just found your site, maybe you can help with some info. I have my father's Arbeitsbuch für Auslander. He was a Pole who spent the war years in Germany as a forced /slave labourer, Goslar is written in the book, dad worked in various factories, farms any info ????? I have also got his Arbeit's pass, Arbeitsamt Northeim, Nebenstelle Osterode, any info??? Also, PWX/DP Identity card with UNRRA # from 1947 - 1948. Dad never spoke much about the war years. Memories must have been painful. He died last year at 78. He never saw any of his family from 1939/40 until he died. Hope you can help,
Frank Stec,
England
---
Nordhorn
---
Lager-Norhausen Death Camp
Photo of two men sitting after liberation from Lager-Norhausen Death Camp
http://www.fdrlibrary.marist.edu/
---
Neue Bremm KZ
---
North Rhine-Westphalia (NRW)
- very nice explanation of region, map and districts on
http://en.wikipedia.org/
Continue to slave camps O-Q