Nammen, Lower Saxony (British zone)
Neckarbischofsheim Thanks Olga for www.freetranslation.com and it seems the easiest and there's very little mucking around. Olga I was wondering.... and this is hoping for too much I think :) but is there anywhere I can search to try and find where the parents were in the camps in Germany. The mother had her first child in Neckarbischofsheim and thats where I found the mother's birth certificate, so obviously she was in a camp around there. I wish there was just a list of every single person and where they were sent. Gillian, Australia Naternberg - Deggendorf (British zone) Russian Boy Scout troops
Neckargartach See Heilbronn page. http://www.neckargartach-online.de/
info@akhkn.de
City offices: Mittelstrasse 3
74078 Heilbronn
Tel. (07131) 28 51 10
Fax (07131) 28 5 11 20
E-Mail: buergeramt.neckargartach@stadt-heilbronn.de
Location on map:
http://www.neckargartach-online.de
2/10/05 Dear Olga,
We lived in a small DP camp in
Neckargartach, Heilbronn
. I was born in another but have no idea where that is. I have no documentation of my birthplace but it's supposed to be HOHENFELS or HOHENFELD. We left Neckargartach in November 1956 for Canada. I was 10 yrs. old. I am now searching for my roots. I could not find anything on Neckargartach, so far. Here is a small photo of my mother in the camp, showing some of the barracks. What a great site! What a huge job! Thank you,
Sofia
Spage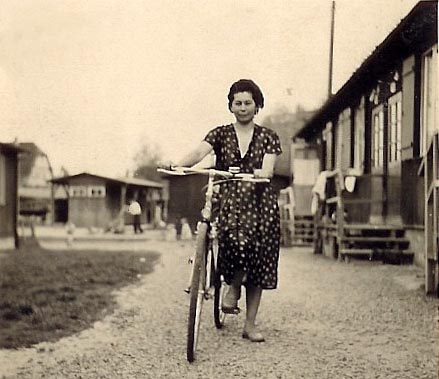 Neu Ulm,
Ukrainians, Jews, others
City archives: (Lageplan) Stadtarchiv Ulm, Schwörhaus, Weinhof 12, 89073 Ulm
Postanschrift: Stadtarchiv Ulm, 89070 Ulm
Telefon: 0731/161-4200
Telefax: 0731/161-1633
Email:
stadtarchiv@ulm.de
(bei Emailanfragen bitte Namen und Postanschrift angeben)
---
Dear Olga,
My name is Alexander Banow. I was born in an Ulm hospital during the time that my family was interned in a DP camp in Neu Ulm. My mother must have traveled to Ulm for the delivery. My mother was born in Odessa, Russia and my father, was born in Pinsk, Bellarus. We immigrated to the US when I was 10 months old. As you stated in your article, the child mortality rate was high. I nearly died of dysentary. My mother credited a camp doctor with saving my life after the hospital staff physician gave me up for dead.
My mother mentioned that in order to survive she participated in the black market and was once arrested. She met my father when he was a patient in the hospital and she was his nurse. He had been wounded in the war on the Russian front and had lost his leg. They had both been taken into military service by the Germans because they had some German parentage, (Folksdeutch) my mother served as a nurse, my father as a soldier. She was actually put in service in a field hospital on the Russian front. She was once wounded. She arrived in Germany when the Germans retreated and met my father in hospital in Germany. He nearly did not make it to Germany from Russia when he was left for dead in a hospital in Warsaw if I remember correctly. He would not speak about his life except on rare occasions. A drunken ambulance drive had lost his way and was late to the evacuation. At the last minute the driver arrived at the hospital and evacuated by father.
When I was growing up there was much mystery about our family background. My mother revealed over time that most of our family in Russia were persecuted as part of the intelligencia, by Stalin. They were royalists, according to her. This may explain why my parents went along with their draft into the German army. In any event, they never indicated that they had had much choice. Fate is a fickle thing. If they had returned to the East they would have been executed. I never had an opportunity to find out about relatives in Russia. Once my mother wrote through the Red Cross. She received a letter from a distant cousin who informed her few relatives were left alive and that she should not write again given the political consequences to her relatives in Russia at the time.
I ran across your article while looking for information about their marriage certificate. I would like any info about the camps that may come out in future. My sister may have a more direct recollection of the camps because she was 5 years old when we immigrated. Yours, Alexander Banow
---
My name is Christof Maihoefer. For the DZOK Ulm and the city of Ulm, I work on the subject of displaced persons in Ulm and around (Neu-Ulm, Dornstadt, Leipheim) I can offer any assistance in questions on the subject, and I am also deeply interested to come in contact with people, who know about this time and have documents.
Bistum Augsburg: Die Ukrainische Kath. website:
http://www.bistum-augsburg.de
Mission Neu-Ulm I talked to the archive of the kath. church St. Elisabeth (Ulm); I'll start to collect information there; the church responsible for the major DP Camps and documented weddings eg. A lot of the people remember those days!
Christof Maihoefer, Germany
Neubeckum (British zone)
Neuengamme - List of Subcamps http://en.wikipedia.org
Neumuenster (British zone)
1/23/08 Hi Olga,
I am early in my search of my grandparents/parents history – family names of Czubara and Pijanka, as all my grandparents have died. My father and his parents were in DP Camp Neumunster 04/1941 – 11/1941.
I am finding your site were interesting and if I can help anyone else fill in the gaps it would be a pleasure. Regards, Anne-Marie Pijanka apijanka@internode.on.net
Neugraben, suburb of Hamburg, (British zone)
Neumarkt (a former concentration camp), in Bavaria Letters from Neumarkt dp camp resident tells a little about the stress he is undergoing with food shortage and waiting to be allowed to emigrate to USA.
City archive: Stadtarchiv der Stadt Neumarkt i.d.OPf.
Bräugasse 1
92318 Neumarkt
Tel: 09181/26 1663
E-Mail: stadtarchiv@neumarkt.de
Zum Stadtarchiv im ämterverzeichnis
Dr. Frank Präger, Archivleitung
Angelika Zwengauer Neunkirchen City archive: Rathaus Oberer Markt 16, 66538 Neunkirchen
Tel: 0 68 21 / 2 02 - 4 23 or - 4 21
Fax: 0 68 21 / 2 15 30
Email: kreisstadt@neunkirchen.de
Homepage: www.neunkirchen.de Neuertingen (US zone), Lithuanians
Lithuanians take drawing lessons in DP camp Neuertingen
Photo from Hearken Then Judge by Juozas Pasilaitis, submitted by Frank Passic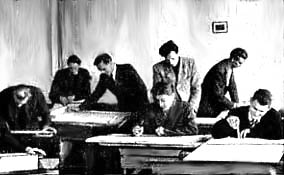 Neustadt near Coburg City Archive - Stadtarchiv
http://www.neustadt-bei-coburg.de
Neustadt, Palatinate (French zone) Neustadt, #1227, Schleswig Holstein (British zone), Poles, Balts
Neustadt, formerly Wunstorf, #2728, Land Niedersachsen (British zone); Poles, Balts, The following submitted by: Wolfgang Strobel, author of Post der befreiten Zwangsarbeiter - Displaced Persons Mail Paid in Deutschland 1945 - 1949: The DPAC 2728 was in Wunstorf from January to June 1947 (and probably before), see letter W - Wunstorf.
The DPACS 30/2728 was in Neustadt am Rübenberge from January to June 1949 (and probably before). A camp in Neustadt am Rübenberge with the UNRRA team 808 existed already from October 1946 to March 1947.
County archives:Kreisarchiv Landkreis Hannover
Schlossstr. 1
31535 Neustadt am Rübenberge
Tel: 49-5032-899-201
Fax: 49-5032-899-165
Neustadt in English means: new town; my encyclopedia lists 14 towns with this name. In German, most of the towns are distinguished by a geographical name, i.e: Neustadt in Holstein Schleswig-Holstein region, N. Germany, (British zone) and Neustadt an der Weinstrasse today: Rheinland-Pfalz region, Palatinate means "Pfalz" (French zone).
Niederlahnstein (French zone) Poles,
May 20, 2008 Hi Olga,
It was 2007 when I last emailed you and you posted my story on the Greta Camp site (from which I had many people email me). There is a site that you may be interested to look at www.anvilcreek.com http://www.anvilcreek.com go to past then gallery this as you will see has many Greta Camp photos.
I mentioned to you that I was looking for Polish Camp Liberty Lebach, which I finally found information on www.lebach24.de (Google Polish camp Liberty 1945 Lebach Saar, sometimes difficult to go through the web). This camp read to be a very hostile and unsafe. I have photos from this camp. Also the other camp was dp camp Niederlahnstien which I see is now on your site. I also have photos of this camp (I have sent you one by email, Mum standing in the middle of the camp road; a lady here in Australia recognized it as Camp Niederlahnstien.) I am waiting to get information from post@landeshauptarchiv.de hopefully from both the camps as this address is supposed to have information on all the dp camps in that area.
Also I have sent you my mothers work card, she worked here as a farmworker St Alban Kaiserslautern in 1945 can't find any more information about this place (also have a photo) again a lady in Australia who worked with Mum at St Alban recognized the photo of Mum and a friend to be on this farm.
I have learnt a great deal from when I first emailed you Olga (still along way to go) but sadly still haven't found what happened to my grandparents. My mother was born in Poltawa Russia (Poltava Ukraine) and I am waiting for her birth certificate or any information (fingers crossed); very hard to look for information as I do not understand the culture or language of this country.
Regards Liz. Australia. lizzie.mick@bigpond.com
1/25/2012 Hi Olga,
The photos above were taken in Camp Niederlahnstein between 1947-49. My sister Helena with her father, Stanislaw Momot, sister is on the right do not know who the little girl on the left is is??
Group photo my mother sitting at end of table, my sister sitting on her father's lap second left. I don't know what the gathering was about? These people may have travelled to Australia together. I met a lady with the same photo but she didn't know much about it. Hoping someone browsing through you site may recognize the photos and be able to tell us who the people are? The lady with the 3 children is my mother Maria Momot, my sister Helena is on her right dressed in white --don't know who the other children are??
Regards, Liz
NSW Australia
Niederraunau (US zone) Russian boy scout troops
Niedersachswerfen (USSR zone) Russian boy scout troops
Noor
Nordhorn (British zone)
Nordmark (Lager), website in German
Nordlingen Fifty-five kilometers from Dillingen, the Nordlingen camp house 500 Latvians and Lithuanians. Field Supervisor Brook reported, 'The camp PX, working on a point system with camp issued money, increased the desire to work.' From Displaced Persons Camp Money by Frank Passsic and Steven A. Feller.
Nordstemmen, #288, Land Niedersachsen (British zone)
Northeim, #281, Land Niedersachsen (British zone), Poles, Balts Stadtarchiv Northeim
Scharnhorstplatz 1
37145 Northeim
0 55 51 - 9 66-2 85
0 55 51 - 9 66-2 80
http://www.northeim.de
Hi Olga, just found your site, maybe you can help with some info. I have my father's Arbeitsbuch für Auslander. He was a Pole who spent the war years in Germany as a forced /slave labourer, Goslar is written in the book, dad worked in various factories, farms any info ????? I have also got his Arbeit's pass, Arbeitsamt Northeim, Nebenstelle Osterode, any info??? Also, PWX/DP Identity card with UNRRA # from 1947 - 1948. Dad never spoke much about the war years. Memories must have been painful. He died last year at 78. He never saw any of his family from 1939/40 until he died. Hope you can help, Frank Stec, England
Nottuln (British zone)
Nürnberg has its own page.